Access Control
Your Tenant's Security and Building Security are the First Priority
During the business day, the building is open, tenants, visitors, contractors, employees and the community come and go.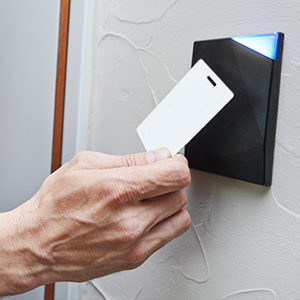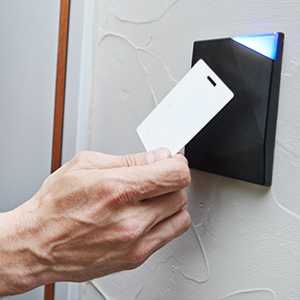 Ensuring that only the right people enter the tenants offices, is managed and maintained via the access control system. Its the first layer of defense against unwanted visitors.
Maintaining the access control system database in line with the tenants wishes is the foundation to the system's integrity; disgruntled former employees, customers and contractors may not always return their access card, and although we don't like to think of good people misbehaving, it happens. Hence, keeping the database up to date for the tenants ensures their premises are protected and the integrity of the system remains intact.
Your Building's Effective Control
Access control and it's synergies provides for more opportunities for automated management than you might realize. Systems can be integrated, access limited and occupancy flags integrated to provide lighting and air conditioning control.
The deeper the interrogation, there are greater set up costs and management costs,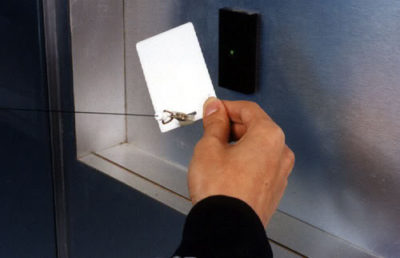 but these costs begin to pale when the benefits of improved energy conservation appear on the bill and "feel" of the tenancy or building is modernized and contemporary. Staff, visitors, contractors and clientele will be impressed and want to be there. Indirect benefits of a contemporary modern control system shouldn't be under estimated.
Optimize Your Control Opportunities
Access control has the potential to improve the visibility into your site operations, creating a data source showing where potential losses are, and where there is room for operational improvement; for example, Car Park access and Board Room Access, lights, fan and air conditioning control can be Optimized together for an "in use" scenario as opposed to pure time and date scheduling. The air conditioning and the lights will activate only when the room is accessed, reducing unoccupied rooms being conditioned and using energy.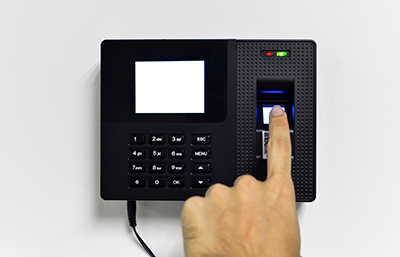 Link your Access Control to your Energy Management
The Investment into your building's access control can support improvements in energy efficiency by "seeing" into the operational environment and making scheduling or occupancy changes to reflect the movements of the occupants.
This will also be reflected in the NABERS assessment of the building in reduced unnecessary energy costs.
Strategic Planning for Building Operations includes Access Control
Developing a strategic Plan, inclusive of access control, to include security operations as well as economic and sustainability strategies.
There may already be a system in place, there may be interface capability to integrate into a greater, building wide, holistic system for monitoring, data collection and strategic planning.
Strategic Opportunities Access Control
lighting control
secured zones, whole floors or part floors
HVAC connected to secured zones
basement and floor whole zone people access
car park lights in line with access
Fan Control in line with car park access
Board room control
Meeting room access
HVAC energy savings
occupancy measurement and trend logs
after hours accessibility and billing
Billing Revenue increased in-line with activity
Air Conditioning activated with access
Security and alarms, trend logs and data management
tracking of people movement
CCTV monitoring in-line with access control
Measure traffic, monitor energy in-line with traffic zones
Optimize A/C based upon people movement
Data Centres people control and logging
Call today, there are opportunities just waiting to be taken advantage of to reduce building operational costs