In Building Management System, BMS Audit Garnished Energy Reduction Opportunities.
Often these audits, in such a large facility, are tough. The vendors are keen to keep the business and leave very little which is obvious; however, on this occasion the BMS audit garnished energy reduction opportunities for the Landlord, many at a low cost.
The Audit Building
We were invited to perform a Building Management System (BMS) audit in a commercial building serving retail, commercial office, a gym, residential and a car park. A few traits about the building:
with in 1 kilometre of the Sydney Central Business District,
is a multi-level hi-rise with commercial office and residential from level 2 up
retail centre from ground to level 1
the residential floor plate is circa 1200 meters
the total commercial floors (above the retail) plate circa 5500 – 6000 meters
retail is floor is circa 6000 meters
Car park for about 100 cars
The Motive for the Audit
The Landlord, in this instance, is a single entity. Their asset management team had spent well over $1,000,000 on mechanical services in this facility. Projects including the building management system, electrical metering, and fluid energy metering. The Return on Investment (ROI) was under scrutiny, as there had been very little to non- existent improvement in the energy costs for the building thus far.
The Business End
In a system which was just on 2 years old, here is a nutshell of what we found:
the entire system was not properly finished, field equipment improperly installed or missing.
commissioning was incomplete, there was easily another 100 hours.
tuning was non-existent, values were admin / factory values.
there was clearly no "Holistic Thinking" of the building as a unit.
integration was minimal.
data use from any integration was virtually non-existent (massive opportunity missed here).
graphics were "copy and paste" even re-using random data points and field identities.
high percentage of the energy meters were doing nothing, and showing zeros.
Technical documentation was virtually non-existent.
HVAC System very dirty Air Handling Unit supply air filters.
installation appears to have been a "piece meal" project without consistent project management.
the current Building Management had zero training or technical knowledge compounding the situation.
Compliance Issues Revealed
In any Audit, we keep an eye on any obvious compliance or safety issues we might discover that might otherwise not be raised.
Hence, in this audit, we discovered a few compliance issues which we knew the Landlord would be unlikely to be aware of.
Raising these opportunities for improvement brings the building closer to operational excellence, our long term goal for any client. Here is just a few examples:
Fire sprinkler system heads covered with rags on repeat occasions.
HVAC Supply air fans, Barrel type, without Safety guards at low level.
Spring return Dampers on Outside Air and return air damper modules not completing travel or not working.
Multiple Fire Doors in need of repair / replacement (this wasn't part of the audit, but the doors were in bad shape).
There are Missing Emergency Lights, especially in plant rooms.
Mechanical services switchboards had poor access in front.
Mechanical services switchboards could not be closed securely.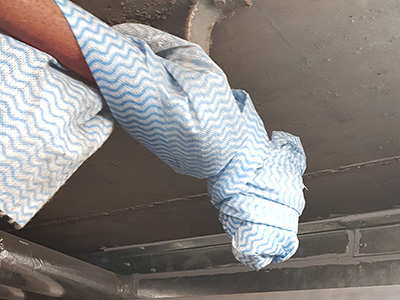 The Good News
"BMS Audit Garnished Energy Reduction Opportunities"
On a positive note, we delivered our audit to our client, including digital images to support our findings, and recommended the audit be sent to the vendors involved, especially the head contractor.
Over time, we believe the bulk of these issues were resolved without conflict or any serious additional capital cost.