Exit Signs
Emergency Exit Signs | Exit Lights | Emergency Lights
Compliance, Installation, 6 Monthly Testing, Upgrades, and Repairs
Emergency Exit Signs and Lights Maintenance.
We adhere to the Australian Emergency light and Exit signs standards for inspection and maintenance. We work to the AS/NZS 2293.2:1995 which dictates the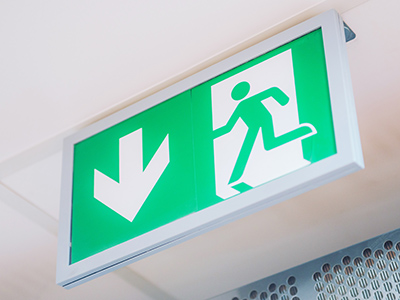 maintenance and testing procedures and intervals.
All emergency lights and exit signs must be inspected and tested, at least once every 6 months
6 monthly inspections include lamp testing in "Battery modes" for a 90-minute discharge test
6 monthly inspections include ensuring your exit signs are illuminated at all times
inspection & cleaning of fittings and reflective surfaces
Emergency Exit Signs and Lights are typically apart of your Annual FIre Safety Statement Safety Measures
All Emergency Exits need to be clearly marked by an Illuminated exit sign
Exit signs must effectively show the way from any location on the floor to the exits of your building
All Enclosed spaced in your building must have emergency lights (this includes the store rooms and server rooms)
Building Stair wells must have emergency lights for adequate lighting in an emergency
Annual Fire Safety Statement
Keep in mind the AS 1851 for Fire System Maintenance and your Annual Fire Safety Statement will likely need the Emergency lights and signs also tested, maintained and repairs completed within the 90 days before the due date of the AFSS.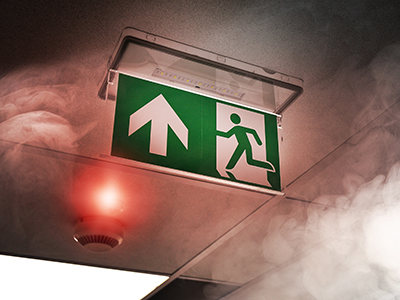 We test and inspect emergency lights according to strict Australian requirements. We supply and replace faulty Emergency lights and faulty Exit Signs with LED type wherever possible for greater reliability for the long term. The repairs are at additional cost which we quote for you, as a part of our 6-monthly inspection process. After we have completed our tests, you will receive a log book of results, typically in excell and pdf via email.
We will schedule your next testing appointment in with our free reminder service and let you know when your next test is due.
Why Do you Need Emergency Lights and Exit Signs In your Building?
So, why are emergency lights and exit signs so important when it comes to fire safety?
Well, when a fire starts, panic can often set in. A clear, illuminated path can save seconds during an emergency. In a smoky hallway where the visibility of a door may be obscured, an exit sign can guide you through the building and outside to safety.
Emergency lights are most effective when used in conjunction with a planned evacuation procedure.
Make sure your team members know where your safe meeting point is as well as the safest exit route to that point.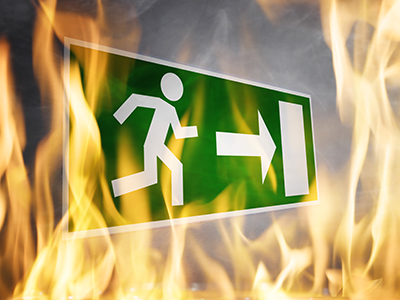 Landlords, Facility and Property Managers
As the owner, facility or property manager of a commercial building, it's your responsibility to ensure the safety of the building's employees, visitors, tenants and occupants.
Something as simple as faulty emergency lighting and exit signs can be dangerous and risky for your staff or visitors, if an emergency does arise.
With regular checks and regular testing, you'll have the peace of mind your tenants and their people are safe and you're meeting the compliance requirements of Council, the annual fire safety statement and Australian Standards.
What Else Do You Need to Know?
We are licensed Electricians
We are CM3 Prequalified (Cm3 is a third party safety and documentation organization)
We offer services including Electrical, Fire, HVAC mechanical and Automation
We are a member of several professional organizations including FPAA and NECA
Different Types of LED Emergency Lights
Twin Head LED Flood Light
Universal LED Emergency Exit Light
Recessed Blade LED Emergency Exit Light
Swivel Blade LED Emergency Exit Light
Oyster Emergency LED Light
Down Light LED Spitfire Recessed
How Much will it Cost?
Emergency Lights and Exits will generally cost between $80 to $220 + GST
plus the installation / repair time. Call for more details or please fill out the form below.
Thank you
[multi-step-form id="4″]