Small Project Management
What is the Scope of works?
"It's just a little Project, we're getting a few quotes".
Let's set the scene,
You are a member of the Executive Committee or a Strata Manager whom has been given the "Project Manager" responsibility for a small project you're not quite familiar with. The project is small, say less than $20,000, but it has the potential to go "pear shaped" just the same.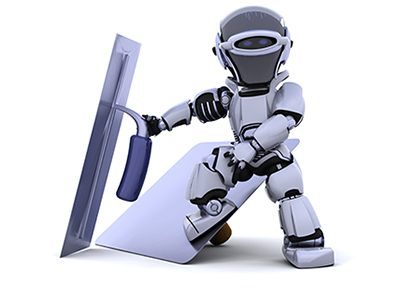 Your idea of the cost is about $20,000 but it's not a firm estimate. You don't want to go through a whole tender process, but you do need to know your market value of the project.
Risk, as with any project, is a concern; the project needs to be done right ensuring the outcome is to your standards, and, the process is completed without injury or inconvenience to the community which use the building. What does this mean in the real world and where to begin?
Part 1 – You're going to need a scope of works which is the same for all three quotes.
You need to set a scope of works which will give you control of the outcomes and the risk, including costs and safety, but you don't know exactly what that scope entails, in fact, you're not sure whom to ask to do the work yet, so we need to do this first, we need to get the process moving today.
Part 2 – call some body
To begin the process you need to take action and call a professional/trade/builder whom you think can do the project; you might call the wrong trade, this is true, but they will set you straight and advise the correct trade/builder and often have someone they recommend. This is an ideal start because you have just received a referral, which will have integrity. The referral has also saved you some research time; an excellent start.
Part 3 – ask the Vendor (Trade/Builder/Professional)
We are assuming you now have at least one correct vendor for the project, ideally you need at least three potential vendors.
We need more information to set up our scope and reduce our risk, (we will never completely eliminate risk).
We need to ask these professionals some questions, I trust you have a note book ready for the answers, keep in mind, some folk will help you over the phone with these questions and reduce your waiting time for their site visit.
You begin your conversation with a brief description of what you want, now it is important to keep your description brief because you want the vendor to ask you all the questions. This gives you the opportunity to "size them up", and also improve the understanding of the project for both parties.
The vendor will be interested in giving you a good price, but if the job is outside their scope or rather difficult for them to do, you will establish this through the "question time". If you are unsure about an answer, tell them, they will sort it out at a site visit.
If the vendor is going to do a quote "sight unseen" it's over, you're wasting your time, run away, next!
The risk of accepting a site unseen quote is huge for both parties and our aim here is minimize risk and optimize the outcome.
A few example questions
(Keep these general so the vendor can explore the answers with you).
How long will it take?
Are there any long lead time items in the project?
What are the safety concerns?
Will there be a great deal of noise?
How Many people will be required on site?
What intrusive works do you expect?
Are there any structural concerns?
What access do you need?
When would you expect to be on site if you have received the Purchase Order?
What happens at completion? Is there any maintenance for the 12 month warranty period?
Part 4 – The Vendor arrives on site to inspect.
Make sure you have the various keys, proxy cards, pins, passwords, etc to gain access to show them around.
Also make sure the Vendor is aware of any site protocols which must be followed, for example, site inductions, no works after 6:00pm, special identity clothing and so forth.
They will ask you various questions typically the last question will be "are you actually going to go ahead with this work at some point in the near future?" (Generally a quote is only valid for 30 days anyway, but be honest, as this can affect their price and can offer better insight into moving forward).
Rule 101
The more information the vendor receives, generally, the lower the price. This is because they don't have to include any "contingency" or make assumptions. Generally, the lower the contingency needs in the vendor's quote, then the lower the price. The lesson here is be careful not withhold any information that may affect the works or the performance of the equipment once installed.
Your Questions to the Vendor during the site visit could include:
What access issues do you foresee?
Do you have an industry Workplace Health and Safety induction card(s)
What references do you have?
Will these works impede the function of the area, will you put up barricades?
Please break up your price in the writing of the scope of works
Please make allowances for any issues we have discussed and state these in your quote
Please be very clear in any exclusions.
Can we have a copy of your insurances, work cover, with your quote.
Can we have a "safe work method statement" with your quote.
Can we have a police check for all personnel that will be on site
Variations
You need be very clear that they understand there will be absolutely no variations and no payment of variations without an additional written quote and a subsequent purchase order from yourself. If they are suspect there will be a variation, ask them to put this as a separate price and include this as an option in their quote. Be clear that you are shopping around, there are no guarantees of the order, but you will call back regardless to give feedback.
Feed Back
Feed back to the vendor is important for both you, it helps with the pricing and the delivery. Feed back will also high light any misunderstandings and further an opportunity to negotiate.
Part 5 – The quote arrives, all three (a minimum of three).
There have been three vendors which have visited the site to review the project with you; your understanding of the risks and the perception of the best outcome are now much clearer. Read all three quotes carefully and precisely. Make a spread sheet of pros and cons, and make sure you read all the inclusions, and all the exclusions; also read their "Term and Conditions of Sale". Regardless of how well you understand the quote and how detailed the quote is, ring each vendor and review. Don't discuss price. This will ensure you are both on the same "page".
Be sure you have a clear Understanding what you are getting and what you are not getting.
Part 6 – The Plan
Now you have an understanding of what is what, you will now need a plan to manage the project into life. You will know what is critical and where savings can be made. Write your own scope in your own words, ensure you have made allowances for site concerns, for example traffic management, trade car parking, access issues, notifications to residents, shut down requirements, additional portable lighting, additional cleaning, pool covers, security passes, and so on. Write back to all three professionals and ask them to re-quote or adjust their quote as appropriate to meet your scope/plan.
The reason for this is to keep control, you're the boss, it's your money, be clear and as concise as possible. Review with the process with all three vendors, this may only take a few minutes on the phone.
Part 7 – Let the Order
When your are comfortable with the risk elements, your plan, the price, the expected outcome and you are ready to send them a purchase order, then, if you have the authority, send the purchase order with your "Terms and Conditions of Purchase". This document keeps you in control, for example: your payment terms maybe 45 days end of month, their payment terms maybe 7 days net from date of invoice. This needs to be understood between you both so there is no crisis or animosity which will affect their performance on the project and/or your cash flow.
You don't have a "Terms and Conditions of Purchase" document, you are at risk!
Conclusion
We hope this has been useful, some of these steps could be completed in a telephone call, they sound more dramatic than they actually are, remember we're talking about a project less than $20,000; mitigating risk and understanding the expected outcome is critical to understanding market value and delivery of your project.
The more you plan and "iron out" issues before the order is let, then the less time you will need to spend on site physically managing and the lower your risk exposure is.
Remember to give feed back to the vendors, it's very helpful for later projects and maintains a good networking system. If they have helped but didn't get the order, keep them in mind for the next one.
Nigel Wraight
Principle
Forte Asset Services