Essential Services
Annual Fire Safety Statement
Need Your Annual Fire Safety Statement Submitted?
Running Late! Your Fire Contractor not returning Calls?
In the pace of day to day business, and especially during Covid-19, it can be easy to loose track of time and miss the annual fire safety statement (AFSS) submission.
With our competent Fire Protection service technicians and mechanical services crew, we can efficiently assist you to perform the Annual Fire Safety Statement tests and checks. The team will complete the relevant paperwork for the annual fire safety statement on your behalf, and, submit to council with any other relevant authority.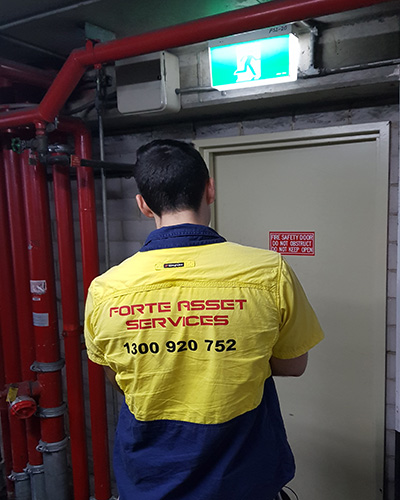 Response
Reach out to us via the form below or call; we'll get back to you typically within the business day. We'll then arrange a no obligation site visit to appraise your situation.
Moving forward, we will suggest the best way forward to proceed as soon as practical. You will know the price before going ahead.
What If the Due date is Too Close or Has Expired.
We have dealt with this on more than one occasion. To resolve, its simply a matter of having a conversation with council, letting them know we are assisting you to rectify the situation and move forward from there.
Repairs
Some repairs can be done quickly and expediently. While others may take time with the delivery of product, organising additional team and/or organising relevant materials and expertise.
We can inform council on your behalf, if the works are extensive, we can organise an application for a "Stay of Penalty". A "stay of penalty" application is basically a request for an extension of time to perform the works with council's knowledge, so your don't get any fines.
The priority is to submit the correct documentation to council, on time, expedite any repairs, in line with the submission and Australian standards.
Emergency Lighting Test & Repairs
With Qualified Electricians on our team, we can test the lights and perform the repairs as required.
We'll keep you informed about price, lead time with products, and the volume of faults found in the test.
A typical Exit light will cost around $100 plus the labour to install
The List of Measures from the council
To help you expedite the process, send us an email or call so we can discuss the safety measures in the letter from council (which is typically 90 days prior to the due date).
We will then arrange a no obligation site visit to make a list of priorities for your site for your annual fire statement submission.
Smoke Ventilation Requirements
Keep it simple and make your life easier. We can take care of the mechanical services component of the annual fire safety statement. With Qualified technicians and the experience to ensure testing compliance with the Australian Standards we ensure all scheduled measures are tested.
Annual Fire Safety Statement | AFSS | Formally 15A
The Annual Fire Safety Statement (formally known as the 15A), AFSS, serves as a testing measure. Your Fire protection system is installed in compliance to a set of codes and standards. The AFSS is to check the systems functionality and continued compliance as per design.
The Annual Fire Safety Statement testing and submission is a legal requirement.
There are compliance obligations for every commercial building Landlord, which must be met every month, quarterly, half yearly and annually.
Our people know our first obligation is safety; safety for tenants, visitors, workers, tradespeople, customers, owners and the general public who use the facility.
We perform basic checks as well as detailed as per the requirements of the situation in line with the council measures and various relevant codes.
On occasions there may be a necessity to engage a specialized vendor. As a fire protection services company, we will engage a third party, on our client's behalf, to ensure the necessity is taken care of. We keep our clients informed and explain prior to any commitments. Forte has a duty of care to ensure our clients best interests and their stakeholders in the commercial facility are fully protected as per the intent of the standards and codes.