Tenant Lease
In the larger commercial buildings and retail centers a tenant might find a condition in their lease instructing them to use the base building cleaning company for their janitorial requirements; why would the landlord have such a requirement.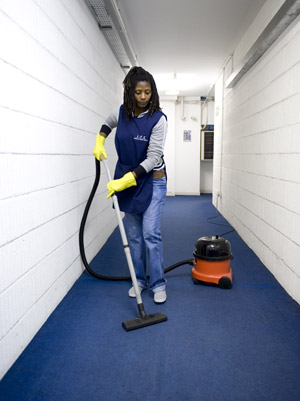 This requirement is actually in the benefit for both the landlord and the tenant, as multiple companies, a high number of workers, and the waste management would create a logistical problem for the cleaning companies and the building management, this cost would have to be made up somewhere and it would likely be the tenant. Hence to keep costs down, and improve operations performance of the building, the tenants are required to use the base building cleaning company.
Advantages for the Tenants
The main advantage is the reduced cost as mentioned above but there are other advantages, here's a few:
Cleaning Service management is performed by the base building management
The tenant can and should still raise any concerns about performance of the cleaners, they can be raised with the building management
the Cleaning company wants to keep the work, so effectively they have multiple clients and multiple people inspecting and monitoring their work performance
Why should tenants use the same cleaner as the base building
The core reason is the Logistical strategy and management of possibly so many cleaning staff and their equipment.
Picture this, a 15 level building, a different cleaner for every tenant, there are 20 tenants in the building.
Picture the logistic difficulties with 20 companies entering the building typically at the end of the day, after 6:00pm
Picture the waste management difficulties and the additional costs.
Security passes would need to be issued and tailored, security checks upon the workers to be engaged, and additional monitoring by the building management team.
Difficult for the Cleaning companies also
There is typically a single "Cleaner's Room" in the basement of any building, especially an older building of 15 levels.
The Cleaning companies need to store their equipment and their products somewhere. The storage of the chemicals need to be safe and without compromising property or other stakeholders in the building.
Local Knowledge of the building
Cleaners whom regularly visit the building know the security process, they know the phone numbers and they know all the tenants. If a tenant decided they wanted to keep changing their cleaning company, for whatever reason, then this would create a logistical problem in the building and add extra unnecessary work load to the building management team and the security team.
What are your Thoughts?
We would greatly appreciate to hear your thoughts and your experiences.